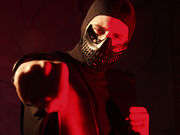 Lin-Ku is a protagonist in the Press Start universe. He is sort of a cross between a Mortal Kombat ninja and Ryu Hayabusa from Ninja Gaiden. He was one of the two rebels that recruited Zack Nimbus to help save the world. He is voiced by Kevin Folliard. In live-action, he is portrayed on-screen by Al Morrison.  
Ad blocker interference detected!
Wikia is a free-to-use site that makes money from advertising. We have a modified experience for viewers using ad blockers

Wikia is not accessible if you've made further modifications. Remove the custom ad blocker rule(s) and the page will load as expected.